Fly hooks for dry and wet flies.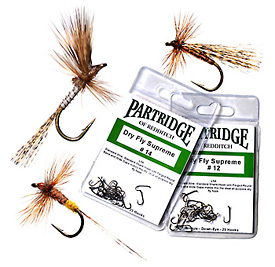 Dry flies clockwise from top. Coq de Leon winged
sedge, Female Adams, Elk Wing Emerger.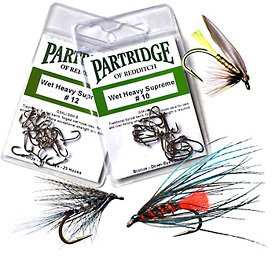 Wet flies clockwise from top. Greenwells Glory,
Goats Toe and Silver Dabbler.
Fish hooks have been around for a long time so you might wonder what is new when someone brings out a "new hook". Of course technology has moved on and better steels and vastly superior manufacturing methods have brought great improvements in design and quality. Partridge of Redditch is an old established hook making company once owned by my late friend Alan Bramley who developed a large range of handmade hooks for every conceivable purpose, in their day without question, market leaders. Partridge was then bought by Mustad who in 2009 sold it to Fishing Matters who in keeping with its tradition are continuing to develop and improve fishing hooks.
Recent "new" patterns to become available include lightweight Dry Fly Supreme and heavyweight Wet Fly Supreme hooks. Both are chemically sharpened and super strong (the bends are flat forged for strength) and there was certainly no signs of weakness in the fly vice where they "pinged" nicely. They have beautifully smooth points with clean cut small sharp barbs which I expect will be very effective. If preferred the barbs can be removed easily with forceps or pliers. Eyes are nicely formed and tightly closed. I think these supreme hooks deserve their name and will prove to be very popular with fly tyers and anglers. They certainly produce very nice finished flies.
Fly fishing tackle reviews